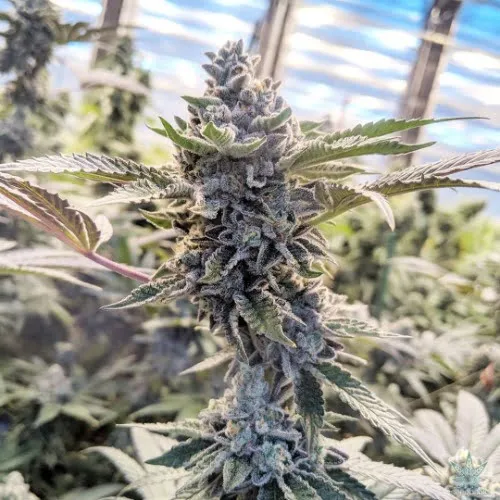 Donkey Butter is a popular cannabis strain that has been gaining popularity in Canada, especially in Halifax. This strain is known for its strong and earthy aroma, as well as its intense effects that can help to relax the mind and body. With its high THC content, the Donkey Butter strain provide users with a powerful and long-lasting experience. It is also used for medicinal purposes to help relieve pain, anxiety, and depression.
If you are looking for a reliable source of Donkey Butter in Halifax, as well as Canada wide, look no further than our online mail order marijuana delivery service. We offer top-quality strains from Canada's leading cannabis growers delivered directly to your door. In this article, we will explore the different compounds found in Donkey Butter and discuss their potential benefits
Origins
Donkey Butter is a cannabis strain that originates from Exotic Genetix, the creators of Extreme OG, this strain crosses Triple OG with Exotic's own Grease Monkey. It is a hybrid strain that combines the genetics of both Sativa and Indica strains. This results in a hybrid that is 70% indica 30% sativa.
The Cold Hard Stats
Cannabinoids
THC
Cannabis has been used for centuries for its medicinal and recreational properties. It is now becoming increasingly popular as a therapeutic aid due to its high THC content, which can provide users with a range of benefits. THC, a compound found in cannabis, has been the subject of much research in recent years. Studies have found that it can have a range of positive effects on physical and mental health. From reducing anxiety and improving sleep to relieving pain and inflammation, THC has shown promise as an effective treatment for many conditions.
CBG
Cannabigerol (CBG) is a cannabinoid found in the cannabis plant that has been gaining attention for its potential to help with pain relief. Containing one percent of CBG Donkey Butter is amongst the higher CBG containing strains.
CBG is believed to be effective in reducing inflammation, which can help alleviate pain. Its interaction with the endocannabinoid system helps regulate pain and inflammation. In addition, CBG has been shown to have neuroprotective effects, which could help reduce chronic pain associated with neurological conditions such as multiple sclerosis
CBG may also help to improve cognitive function and reduce the risk of certain cancers. This is why many people are turning to CBG as an alternative form of treatment for various medical conditions. By understanding the potential benefits of CBG, we can make more informed decisions about our overall health and well-being.
Terpenes
Caryophyllene
Caryophyllene is a terpene found in many plants, including cannabis. It has a wide range of benefits, from relieving pain and inflammation to reducing anxiety and stress. Its pain relief is a result of its unique interaction with the endocannabinoid system. In addition, caryophyllene has been found to have anti-cancer properties and can help protect against neurodegenerative diseases.
It is also known to have antibacterial and antifungal properties, making it an effective natural remedy for various health conditions. Furthermore, caryophyllene is believed to be one of the most important compounds in cannabis for providing its distinct aroma and flavor. All these benefits make caryophyllene an essential component of weed that should not be overlooked.
Limonene
Limonene has become of popular interest in the cannabis industry due to its numerous benefits. Limonene has been shown to have anti-inflammatory, antioxidant, and anti-bacterial properties. It can also help reduce anxiety and stress levels while providing an uplifting and energizing effect. Furthermore, limonene has been found to be effective against certain types of cancer cells, making it a potential treatment for certain forms of cancer. By providing high limonene products, weed companies are able to provide consumers with more therapeutic options for their health needs.
Effects
Users of the Donkey Butter strain can expect a boost in creativity as well as feelings of relaxation and euphoria. These effects can give users relief from ailments such as depression, anxiety and PTSD.
Our Recommendations
Donkey Butter makes for a great afternoon to evening weed strain. Its initial boost in creativity makes it great for listening to music while its relaxation effects helps sedate consumers that experience insomnia. Anyone looking to obtain relief from depression or insomnia can expect to achieve that from this strain. Its unique boost in creativity is also a bonus for those who like to use cannabis as a creative boost.
Aroma and Flavour
The aroma of Donkey Butter is reminiscent of sweet and sour diesel, with hints of earthy aromas such as lemon, lime, and pine. The taste matches its earthy aromas but also adds hints of diesel and butter. This unique taste is a result of its genetics providing a unique taste and aroma.
Where can I get some?
We're excited to bring you such a potent and unique strain, and if you would like to try this delicacy for yourself you can find the Donkey butter cannabis strain online within Canada by clicking here. We offer discreet mail order cannabis products full of reliable options online through our mail order marijuana site to all provinces within Canada such as Nova Scotia, Newfoundland and Labrador, New Brunswick, Quebec, Ontario, Manitoba, Saskatchewan, Alberta and BC.
If you're local to the Halifax area, we would recommend trying out our same day local Halifax weed delivery service by clicking here for delivery in Halifax Dartmouth. We are happy to offer our impressive selection to the Halifax cannabis community direct to their door. Everything from delicious edibles to top quality bud, we have a wide variety of options for any customer.
Don't forget to use our limited time discount code reserved for our blog readers on this rare and outstanding strain we cannot wait for you to try. By typing our coupon code: SOTWDBUTTER into the coupon field customers can save an extra 15 percent off this magnificent strain until next Mo